Hi Ladies!!
I am so sorry I haven't been around much in the last few weeks.
But I have been a busy little bee!! :)
Not much new and exciting going on here at the Young's Home. But I have been redecorating, tweaking things, and crafting like crazy!!
I guess that is what happens when you hang out at J*S*P*F it fills you with so much inspiration!!!
I am working on changing my half bath right now. It has been done in an Americana style for years. I am wanting to make it Colonial. So for the last few days I have been trying to get the wall paper off the walls.
Yes, I did say, The Last Few Days!!
WHY is it taking me so long??? Well, the stuff wont come off!! It is driving me crazy. I work an hour get frustrated and have to take a break... then go back work an hour... etc.
I will be sure to show B4 and After photos if I ever get it finished!! LOL!
Please remind me Never to wallpaper Again!! I am starting to think this stuff was backed with super glue!!!
I have found time to craft though. Here are some of the things I have made.
I made some prim cupboard hanger pillows.
This is the first one I made. It isn't my favorite but I do like the coloring of it.
The next on I made is for was for my fireplace. And this one is my favorite!
The next one is an example of Why you shouldn't watch TV and stitch at the same time!! LOL!!
Did you notice what I did?? I was stitching away and thought I almost had it finished when I stopped and looked closer.... On no I had stitched
WECOME!!!!
LOL!! So I had to squeeze the "L" in there because there was no way I was just going to throw it away and start over. LOL!
I have always wanted a prim fly screen but the prices on eBay were more than I wanted to pay. So I was Very Excited when I read through my New Mercantile Gatherings magazine and noticed they had included instruction on making your own. YAY!! I showed the article to my Mom. And a couple of days later she brought over 2 she had made for me!! YAY Mom!! These really turned out fabulous and in person they look very very old.
I put one in my kitchen on my stove dough board. You will also noticed under the fly screen are the cinnamon buns I made out of salt dough.
I put the other one in my dining room.
I also have been wanting on new dough board for my kitchen sink. The one I had was small and only covered half my sink. So my Mom made me one!! She made it without any pattern, just out of her head. It turned out fabulous!! I am so proud of her!!
She made the board, then she brought it over to me to paint and age.
Here is a photo of the board when she 1st brought it over.
First I put on a coat of black paint.
Then I went over it with a light coat of mustard yellow. I wanted some of the black to show through.
When it dried I sanded it a bit, then put it in to place.
Here is the finished display.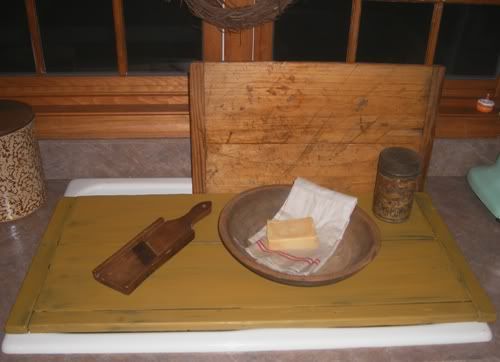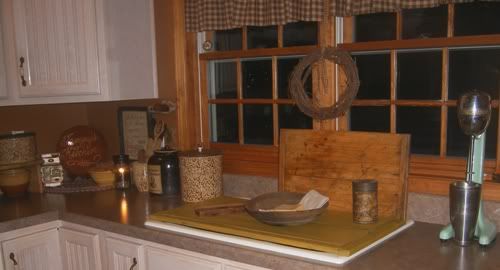 Then do you know what else she did for me?? Well, I was telling her I wanted a prim table bench to go on top of my kitchen table... Yep, that's right. She made me one!!
I have the WORLDS BEST MOMMY!!
She brought it over the next day and I painted and aged it to match my sink board, in the same black and mustard paint.
You will also noticed I moved my fly screen cover off my stove and put it one my bench. :)
She actually made two of these table benches. One for me to keep and one for me to paint and sell on my website. So if you are interested please check it out.
www.aprimitiveplace.net
You will find the bench in my "Reproduction Primitives" Category.
The pictures aren't the best. It looks much better in person. Old and worn looking!! Trust me you will love it!!
Well, lets see what else have I been doing?? My Hubby took me to the mall last week. We stopped by a craft store they have there. They didn't have much I wanted but I did find 2 reproduction flat back cookie cutters for $2.50. So I snatched them right up. Opps! I forgot to take their picture so I will have to try to remember to show them off in my next post.
I also found a wonderful prim wooden spoon holder for $10.00. It looks great in my dining room next to my Bakers Cabinet.
That is about it for me.
Hubby is home from work and I need to go spend time with him.
We are hooked on 24 right now. We have never watched the series b4 but without any new on TV except the Closer, we needed something to watch. So when we were at the mall that night, we saw the series of 24 for $19.99. We picked up Season 1. OMGosh!! Talk about nerve wrecking!! But it was enjoyable. We got through that in a few days... We just couldn't turn it off. So I went back to Target and now we have started on Season 2. So I guess that is what I will be doing the rest of the night. I'm not sure how relaxing it is... way too much excitement and drama on that show to relax, but it is very enjoyable!!
Take Care!!
Wishing Always Only the Very Best!!
~Tammy